Digital Magnetic Compass
The DMC-020 is a digital magnetic compass solution for use in precision heading applications. The DMC is designed for integration into customer systems using a 3.3-voltage logic level or a standard RS232 serial data interface.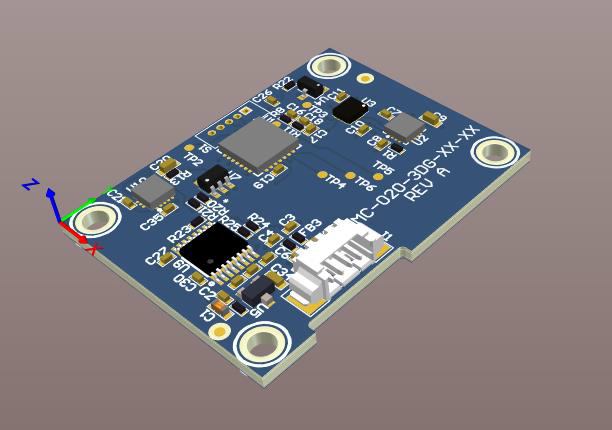 The DMC-020-2D is a two-axis precision compass with two orthogonal flax gate sensors and can be used in tilted application while 3D calibration is impossible.
The DMC-020-3D includes a MEMS accelerometer for a horizontal three-axis, tilt compensated precision compass for performance up to a ±80° tilt range.
The DMC-020-3DG version includes 3D MEMS gyro. Fusion of the sensors' data allows to improve the compass accuracy in noisily environment and implement more reliable and user-friendly field calibration algorithm.
FEATURES
• Compact Solution on a 40x30mm PCB
• Precision Compass Accuracy
• Tilt-Compensated (DMC-020-3Dx-xx-xxx)
• 0.2° Repeatability
• Up to 20Hz Continuous Update Rate
• Field Calibration Routine
• -40°C to +85°C Operation temperature
BENEFITS
• Small size
• Up to ±0.3° Leveled Heading
• Up to ±80° of Pitch and Roll Angles
• Flux Gate Sensors for Consistency
• Rapid Heading Calculation
• User Driven Calibration for High Accuracy
• Military Grade Uses
SPECIFICATION
Performance data applies at 25 ⁰ C, 0g acceleration, stand-alone operation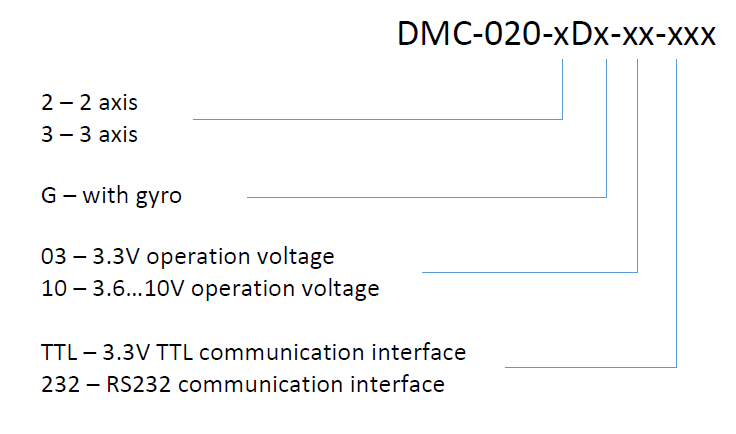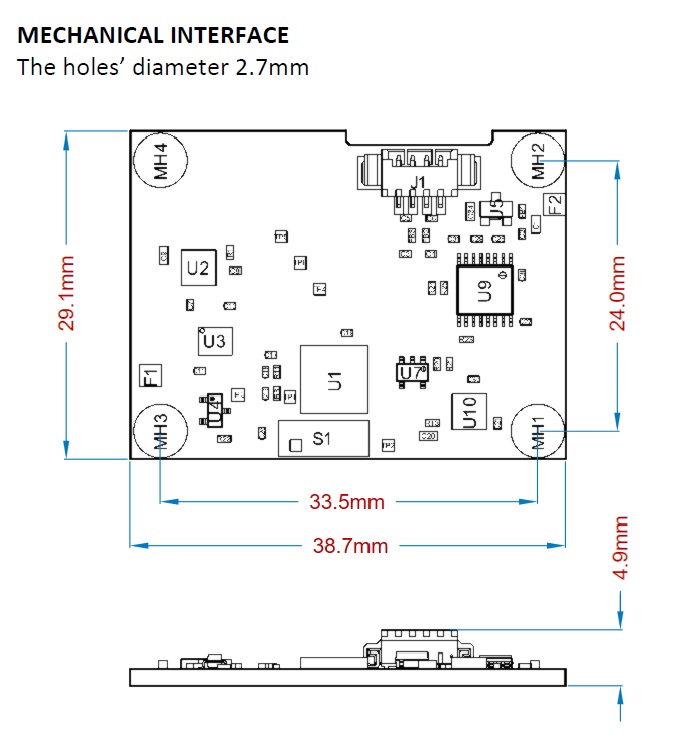 | | | | | | |
| --- | --- | --- | --- | --- | --- |
| Characteristics | Conditions | Min | Typ | Max | Units |
Heading
Static

Accuracy

Leveled

0° to ±30°

±30° to ±80°

0.4 0.8

1.5

0.5

1

3

deg RMS
Resolution
0.1
deg
Repeatability
0.2
deg
Pitch and Roll
Range
Pitch and Roll
±80
deg
Static

Accuracy

0° to ±30°

±30° to ±80°

0.2

0.5

0.3

0.8

deg
Null offset
±0.2
Resolution
0.1
deg
Repeatability
0.2
deg
Magnetic field
| | | | | | |
| --- | --- | --- | --- | --- | --- |
| Range | Maximum Magnetic Flux Density | | | ±300 | μT |
Electrical
Input voltage
DMC-020-3Dx-03-xxx

DMC-020-3Dx-10-xxx

3.2 3.6
3.3
3.35 10
V
Operation Current
DMC-020-3Dx-xx-TTL DMC-020-3Dx-xx-232
20

27

mA mA
Sleep Current
1
mA
Digital interface
| | | | | | |
| --- | --- | --- | --- | --- | --- |
| UART | Binary, 1 start, 8 Data, 1 Stop User selectable baud rate | 9600 | | 115200 | Baud |
| Connector | 4 Pin, "Picoblade" Molex | | | | |
SPECIFICATION
| | | | | | |
| --- | --- | --- | --- | --- | --- |
| Characteristics | Conditions | Min | Typ | Max | Units |
Physical
| | | | |
| --- | --- | --- | --- |
| Dimensions | Circuit Board Assembly | 39×29.1×7.4 | mm |
| Weight | | 8 | grams |
| Encapsulation | | Class 3 Conformal Coating | |
Environment
Temperature
Operation
-40
+85
°C
Storage
-55
+100
CONNECOR PINOUT
Connector type:  Molex PN 53261-0471
Pin1 – Vcc
Pin2 – DMC TX (Output)
Pin3 – DMC RX (Input)
Pin4 – GND
MECHANICAL INTERFACE
The holes' diameter 2.7mm